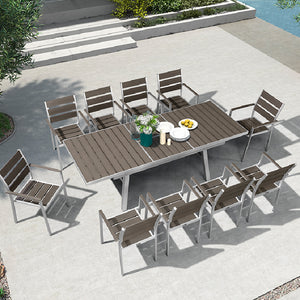 Monte Outdoor Aluminium Extendable Table Set
Monte Outdoor Aluminium Extendable Table Set
Looking to decorate your patio, balcony or garden with outdoor sofa? Our Monte Outdoor Aluminium Extendable Table Set is ideal for decorating your patio, balcony or garden. The choice of materials for the structure and table top are made to weather the outdoor and to furnish with elegance any environment.
Get your outdoor table and chair sets now for free delivery
Note: This product is ship from overseas warehouse (Est Time of Delivery 14 days to 28 days)

Material: Brushed Aluminum
Table Top: Composite wood
1. Waterproof: Decay, expansion and deformation will not occur to ply wood in a humid environment.
2. Vermin-proof: Ply wood prevents vermin from encroaching the furniture.
3. The material is environmentally-friendly and recyclable. 
---
We Also Recommend